Greetings,
It's a pleasure to meet you. This is Zina Oster I am the new owner of CRneeds, now Ask Zipy.  My team and I are working as fast as we can on transitioning everything over to the new and improved platform. Please go to the new site www.askzipy.com where you will see that we have added many great new features to better serve you.
The new www.askzipy.com website is now mobile friendly, has more options and much easier to use, navigate and now includes these new features on your business pages.  This is a huge improvement over what was previously available.
Number of Page Views
Convenient Share button
Claim Listing
Save As Favorite
Reviews
Send Messages
Click to Call Feature (Do Not have to dial the number, simply click on it to make a call)
Second Number
What's App Number
Skype Field
vCard
QR Scan Code
Social Media Links
Trip Advisor Link Option
Events (All events will display on the business page, the home page, recently added section and featured in upcoming events section)
Blog Option
Classifieds ( Customers will see your product, your job posts directly from your page)
Video View
More Tile Text Space
More Description Space
Map View
Documents
Print Page Option
Email to Friend
Download as PDF
Make A Suggestion
Report A Listing
Increase size of the banner ad's
Better Feature Visibility
More Categories Listings
Map View
Expansion to all of Costa Rica
24/7 Chat and Support
 
Also huge functionality improvements to the My Account Dashboard. Here are just a few enhancements:
Reset your own passcode automated process
Quick Stats View
Manage Listing
Easily View your business page
Easily Edit your business listing
View Your Business Statistics
Add Locations
Easily add images, documents, classifieds, blogs, banners and events
Events(All events will display on the business page, the home page, recently added section and featured in upcoming events section)
Classifieds ( In the classifieds you can list items you want to sell with link option to your buy now page)
Blog Pages (Easily add information to your business page for your customers to see, this will also be visible on the general list, recent added blogs, with convenient social media share buttons for greater visibility to your information)
View and Pay Your Invoices
Online Payment Options, Bank Transfer, CASH, PayPal or Credit Card
Add and change business listings
Many more features and enhancement to follow…
Based on all the feedback we got from our clients and branding experts we changed the company name from CRneeds to Ask Zipy!  Zipy is the name of our Costa Rican sloth who in a very short time has already gained huge following and has significantly increased the number of daily page views. What this means to you is that you get greater visibility and more clients will be able to find your business, products or services.
We need your help to update your information with current and correct contact information and better resolution images.  You can either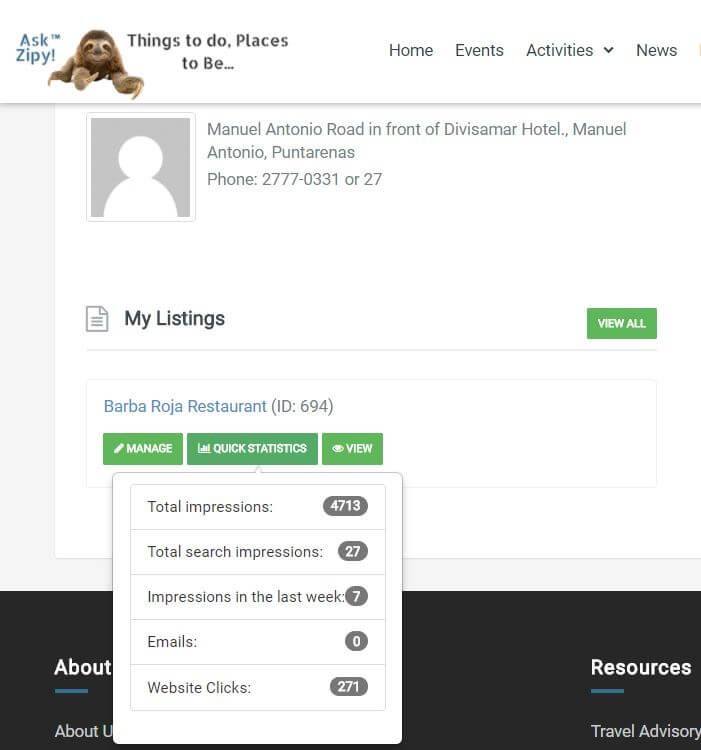 log online and update them yourself or email us the info and we will take care of that for you. We currently have over 1,500 visitors each day so please help us help you.
My team and I are planning to reach out to each of you individually but until we do please feel free to reach out to us any time. We can be reached, via, What's App 8447-1733, phone at 2101-8101, email support@askzipy.com, our online contact form and/or our 24/7 chat line.
We have many new and exciting system enhancement and marketing strategies that you will definitely not want to miss out on. Please contact us today so that we can refresh your business pages with Ask Zipy to give you the best results. We are including a FREE rebrand and consultation on your business pages. Please contact us today to schedule your appointment.
Here is a link to view a video on how to navigate on your new My Account Dashboard. https://youtu.be/Hc4mkYtExyY
We look forward to hearing from you.
Sincerely,
Zina Oster