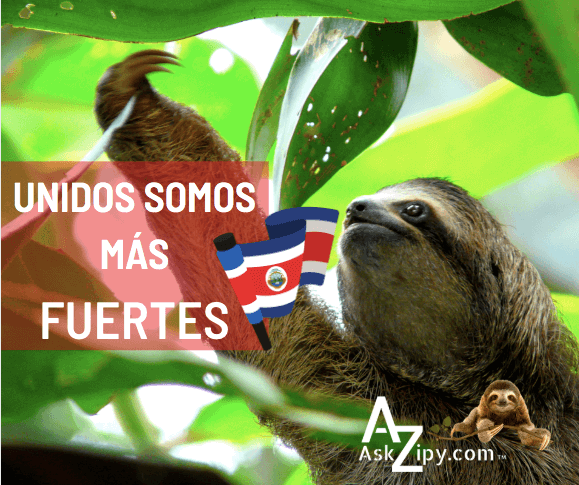 The Coronavirus has swept in, caused devastation, fear, panic, sadness, and constant worry around the world. People are mourning their loved ones alone in isolation while those being treated have been taken away, hoping to see another day. It is hard to know when to react or when it is overreacting. In the age of social media, now even more prominent, we have to sift through news and fake news and decide which information is true, which is helpful, and which our heavy spirits can handle at any given moment. It's ok to be scared, but we can't let this fear control us. 
But when is it irrational fear and when is the sadness and stress real? Fortunately here in Costa Rica, we have had minimal deaths to date. The government has acted quickly and continues to take proactive measures. The President is asking that you stay at home and avoid travel. The borders have been closed to non residents and in fact, if a non native resident chooses to leave right now, s/he will lose their immigration status. No cars are allowed to be on the streets between the hours of 10pm and 5am except for emergency personnel, public buses are running at half capacity, and public spaces are closed to gatherings.
The United Nations has recently praised Costa Rica's innovative response to the pandemic. However, these necessary but drastic measures have cut all tourism to Costa Rica for an indefinite amount of time. This has been crippling to the country's economy. In fact, according to the Costa Rican embassy, Costa Rica receives over 1.7 million tourists a year with earnings from the industry of more than $1.7 billion dollars per year. You can read more from the embassy here. 
Hotels have had to shut their doors. Tour guides have been laid off and their companies closed for the foreseeable future. Academic Institutes, private and public schools, and other learning institutes have had to close, or move to online platforms. Movie theaters, restaurants, bars, casinos, bowling alleys, music venues, coffee shops . . . all closed. Walking through the streets can feel like a stroll through a ghost town. Some restaurants are trying to maintain take out options as long as they can. All of these can feel very isolating, but now more than ever is the time to come together as a community. 
It is time to help our neighbors who can no longer work. It is time to protect our immunocompromised. It is time to put Xenophobia and hate speech out of mind and realize that those who have remained in Costa Rica have done so out of love for this beautiful country. We are all in this together, and more now than ever, we need each other. However, in order to do this and to protect ourselves and those most at risk, we must follow the regulations. Stay at home. 
Look for the beauty in the world and moreso, be the beauty. We need to find those things that fill our souls. We need to call our friends. We need to virtually reach out to our loved ones and plan our happy hours and pictionary games. 
We need to support our local businesses. Don't cancel your trips and tours, reschedule them. Buy gift cards to hotels and restaurants to use later to help them keep afloat now through these tough times. Shop online! So many businesses had to close their physical doors, but not their virtual ones. Sell online! Share your friends' deals, discounts, and business information whenever you can. Get tourists excited about returning to this wonderous country. Everyone will be ready to get out and explore as soon as this passes. Spring will have new meaning this year for all of us.
If you are not sure where to start, Ask Zipy has the solution to help get you back on your feet. We are offering A FREE ONLINE LISTING with Ask Zipy and a FREE ONLINE STORE. In these times, we ALL need to go virtual until we can be together again. Let us do the work to get you where you need to be.