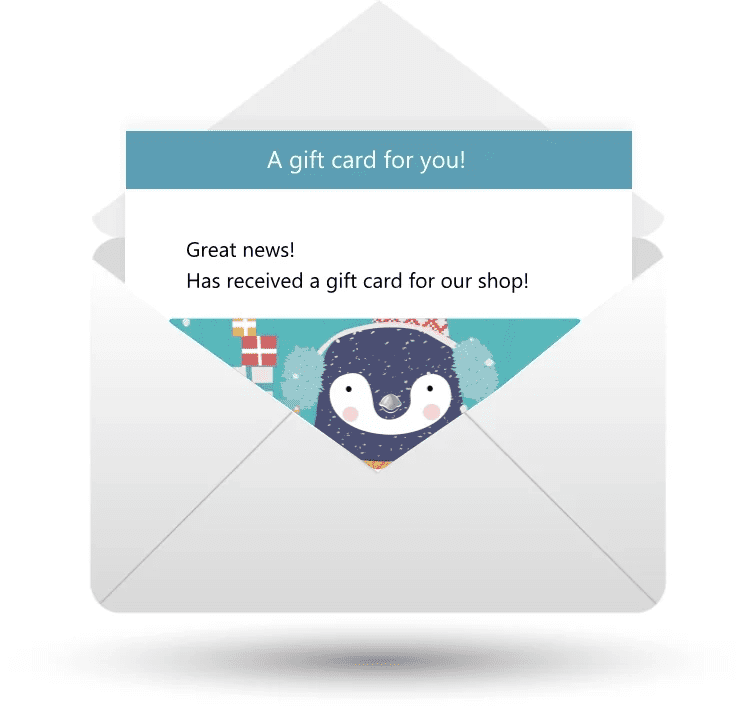 We provide a modern and usable interface that your customers build a perfect gift card
We have updated the gift card page layout to guarantee a more modern look and a usable experience for your customers. Customizing gift cards has never been so quick and easy.
You will be able to create digital or printable gift cards of any amount and give your customers the possibility to customize them to make a special gift for their friends and family.

Your customers can set fixed amounts or choose a custom amount
Offer a versatile gift card system allowing your customers to enter a custom amount or set specific amounts to choose from.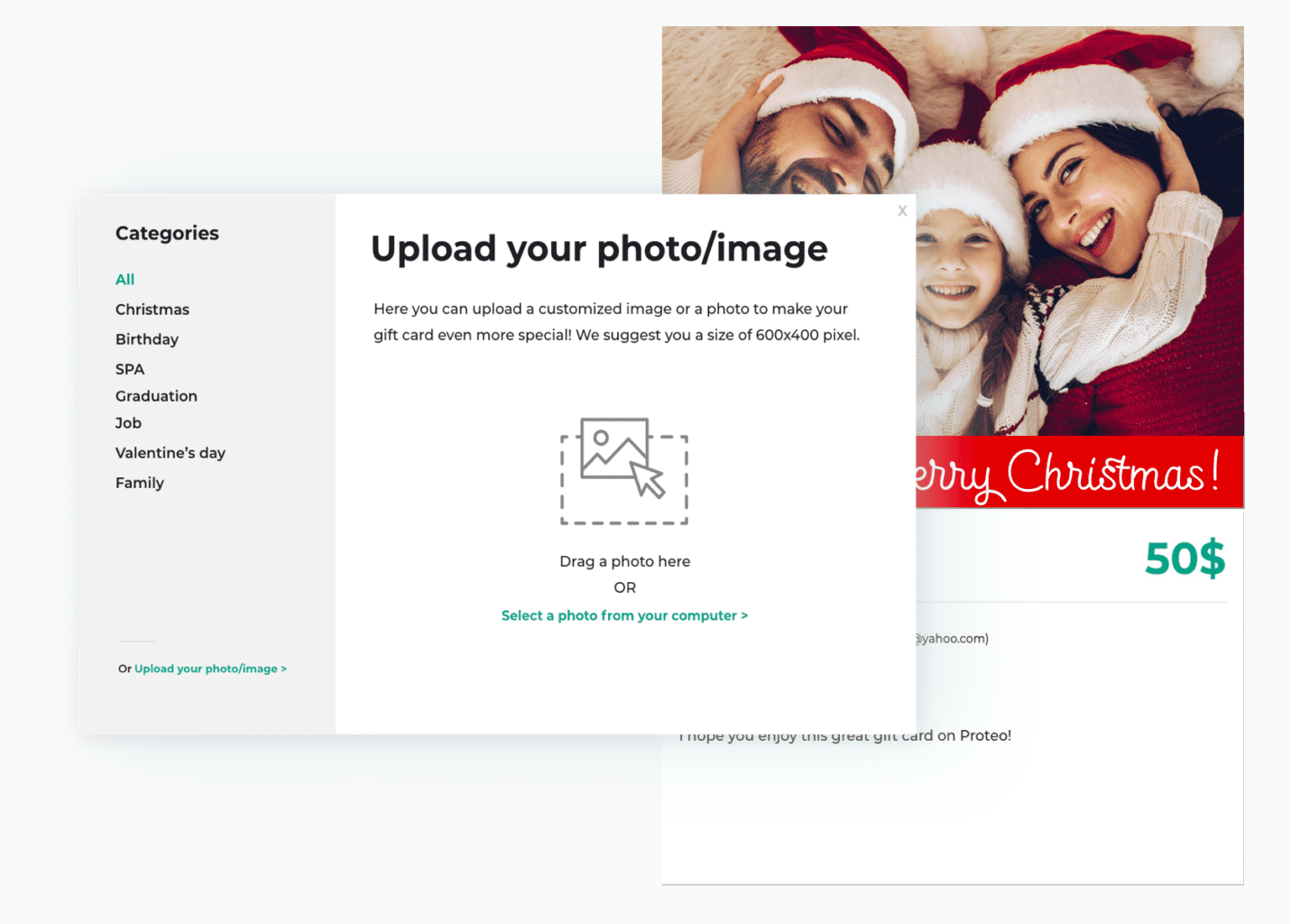 Your customers can upload their images or photos and build a unique gift card!
With the custom uploader, your customers can upload an image or photo to send a special and customized gift card to their loved ones.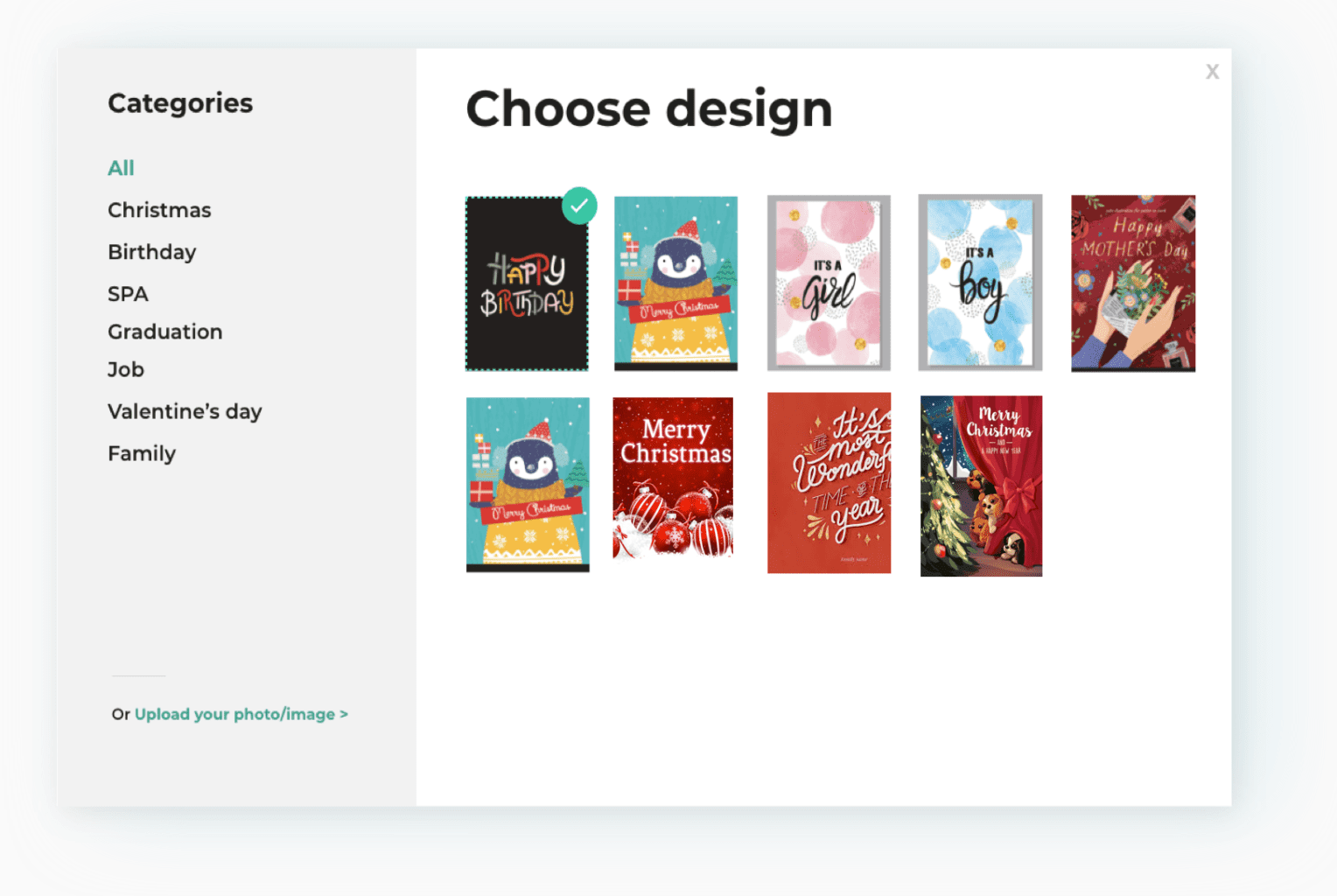 We have a nice image gallery you can select from
Create unlimited design categories to organize the gift card images: Christmas, Birthdays, Friendship, Family…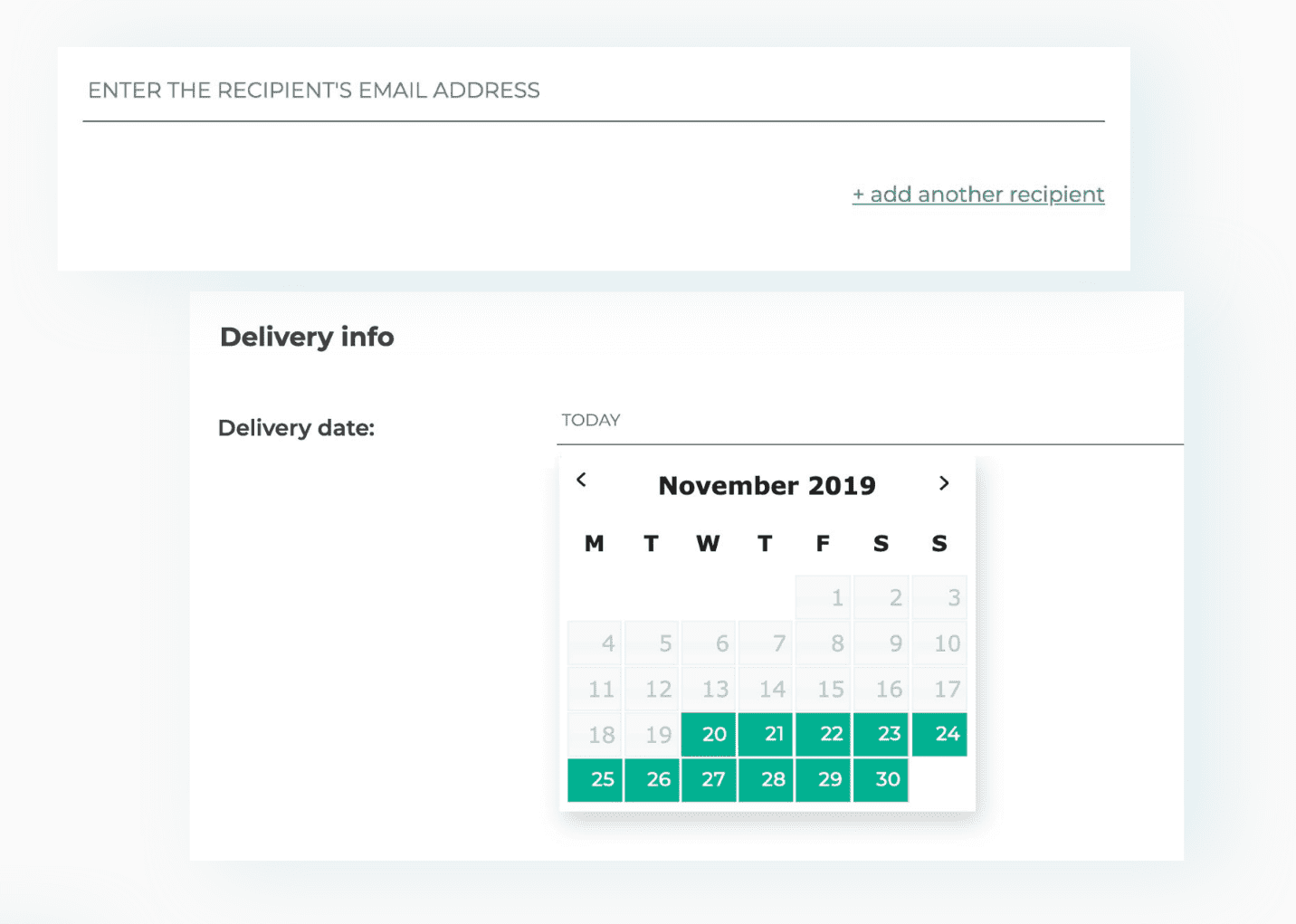 Your customers can send gift card to multiple recipients and schedule a delivery date
Your customers can choose if they want to send multiple gift cards to different recipients and choose a specific delivery date they want the recipient to receive their virtual gift card.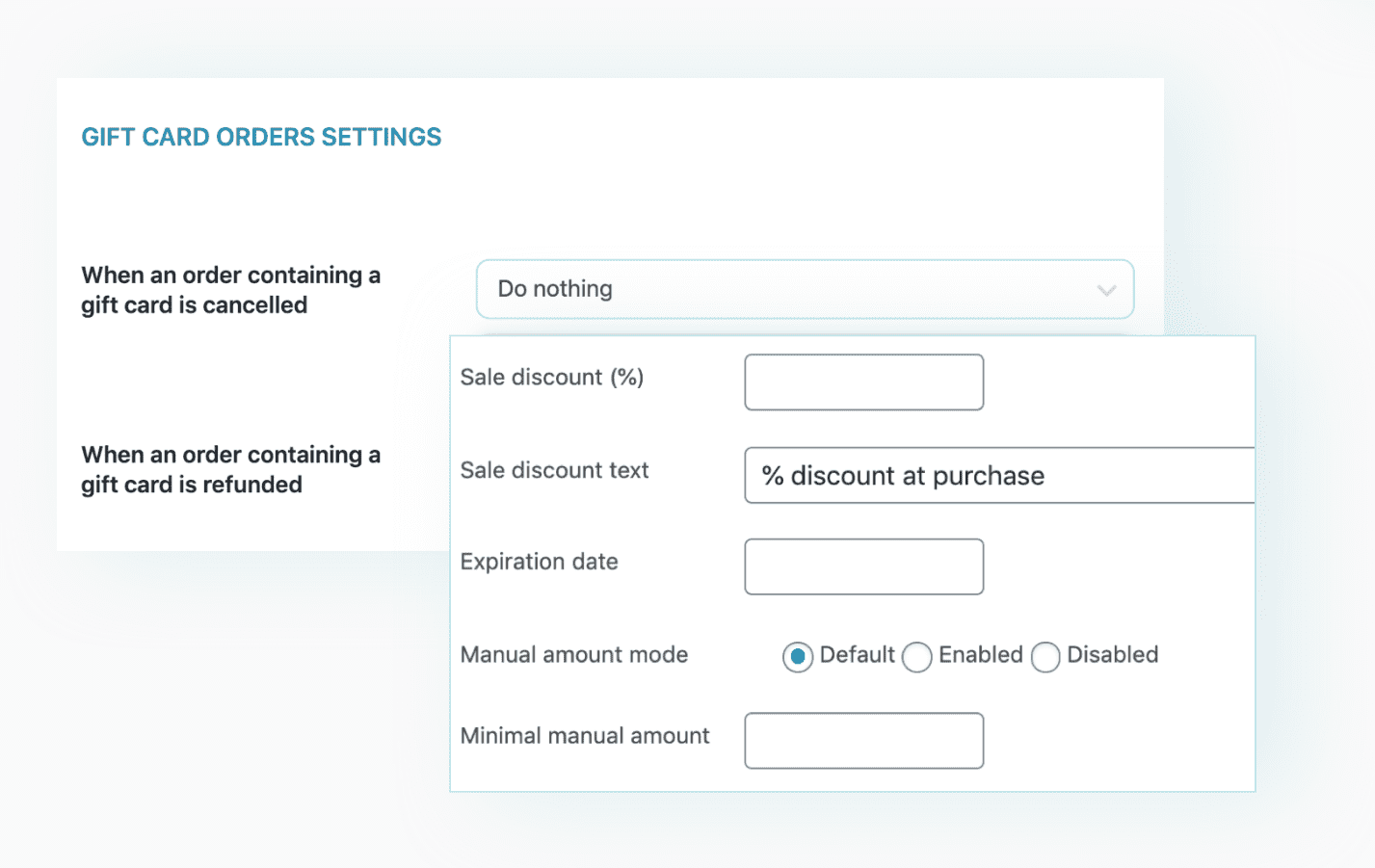 Enjoy the advanced management of all aspects of gift cards purchased in your online store
Set an expiration date for your gift cards, apply discounts, manage stock, check the gift card delivery status, suspend a gift card. Now you can enjoy a full and powerful control of each aspect of your gift cards.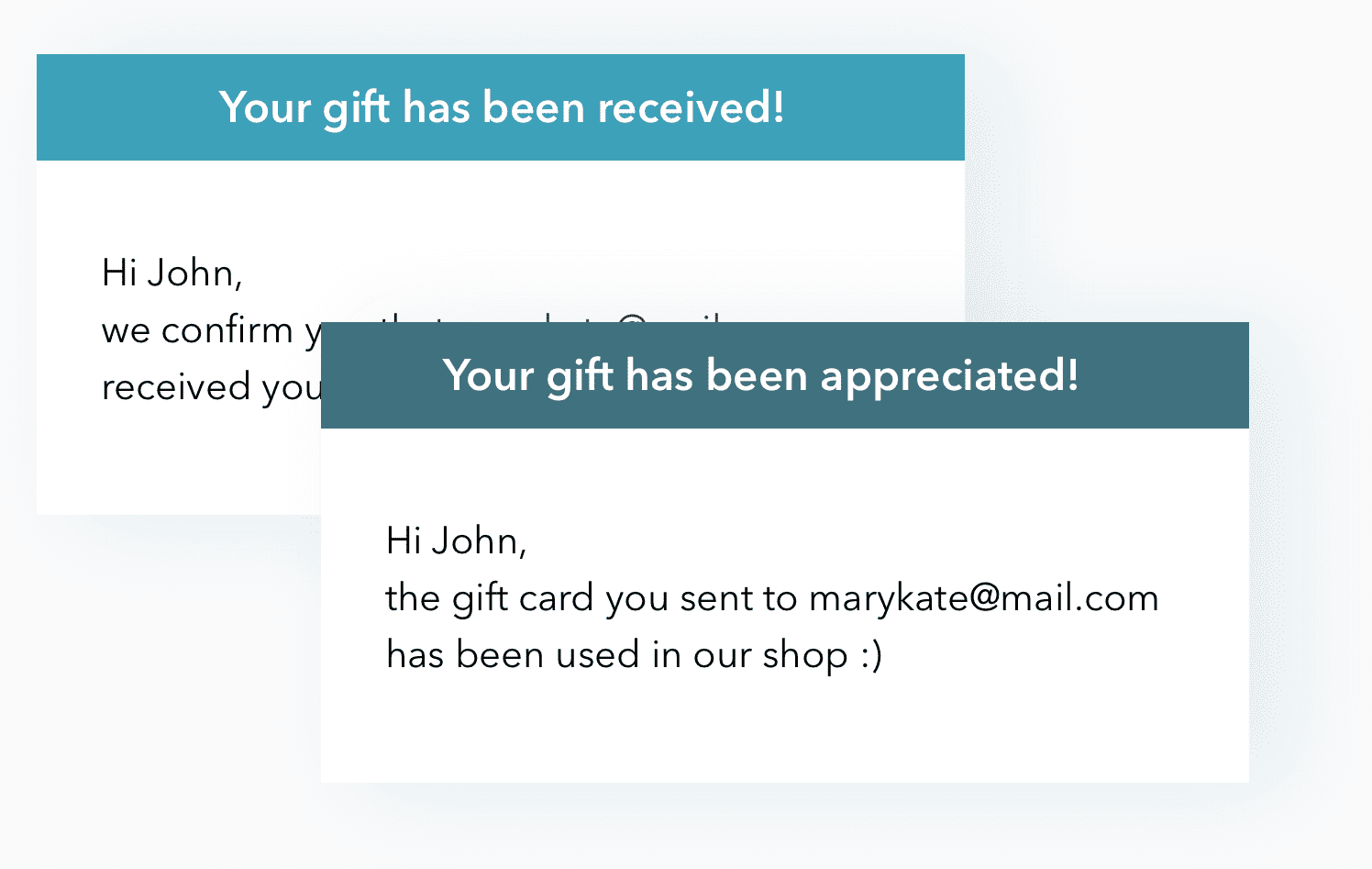 A wide range of notifications and email options
Your customers can receive a notification when the gift card is sent to the recipient and when the gift card has been used.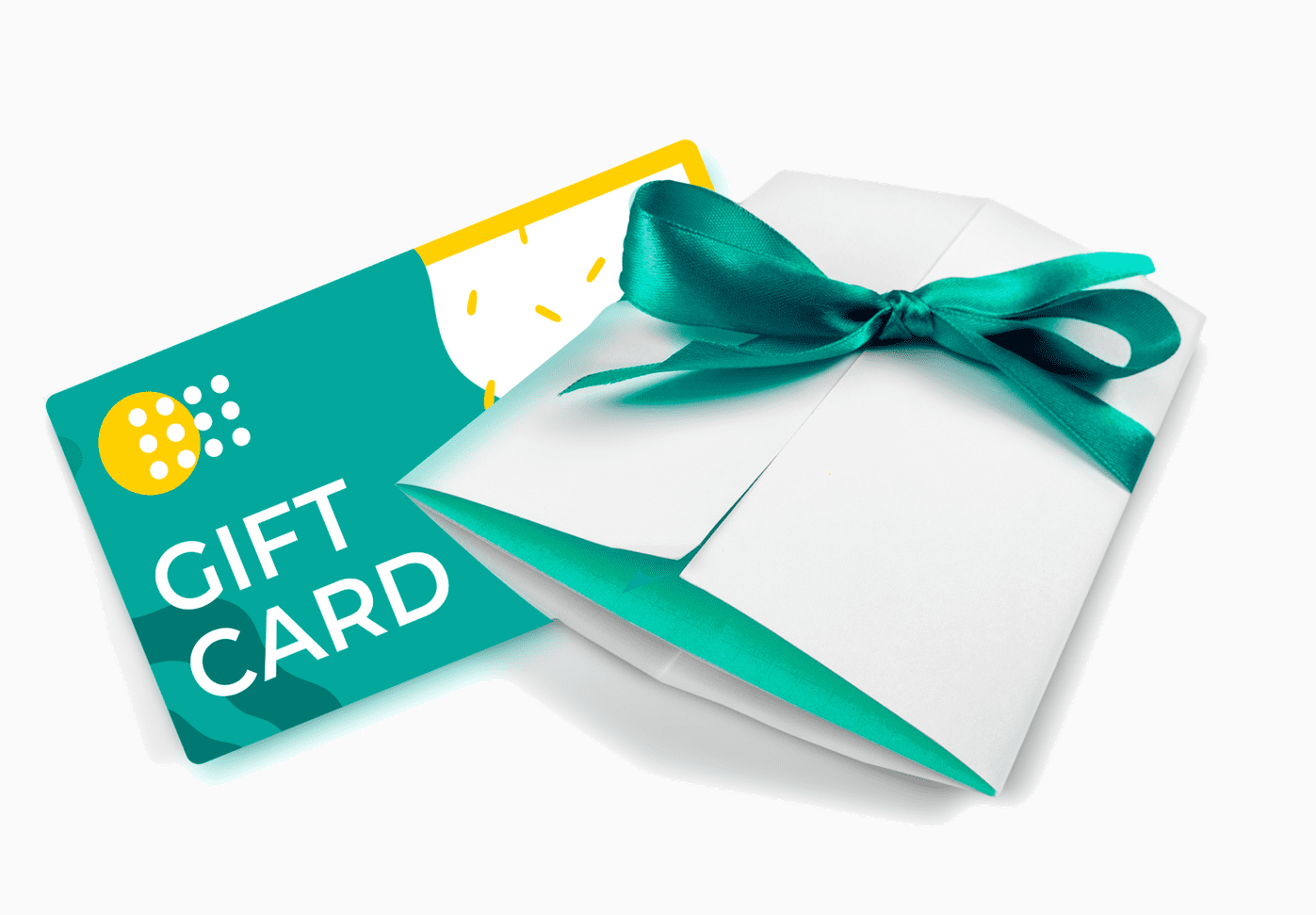 Create and sell gift cards to print and send physically for those who love to touch their gifts
If virtual gift cards are a limitation for your customers, sell gift cards to print and send them physically to your customers.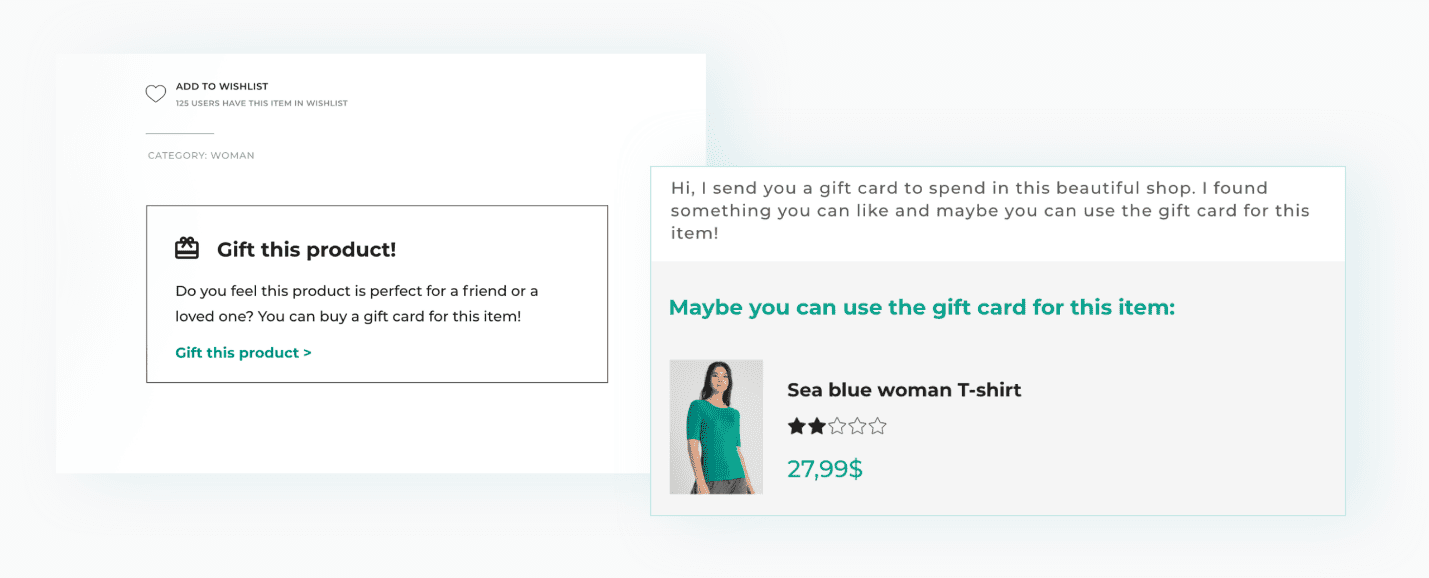 Allow your customers to send a gift card and suggest a specific product from your online store.
With the AskZipy.com Gift Card  you have the option to let your customer buy a gift card suggesting a product they like or something with the same value.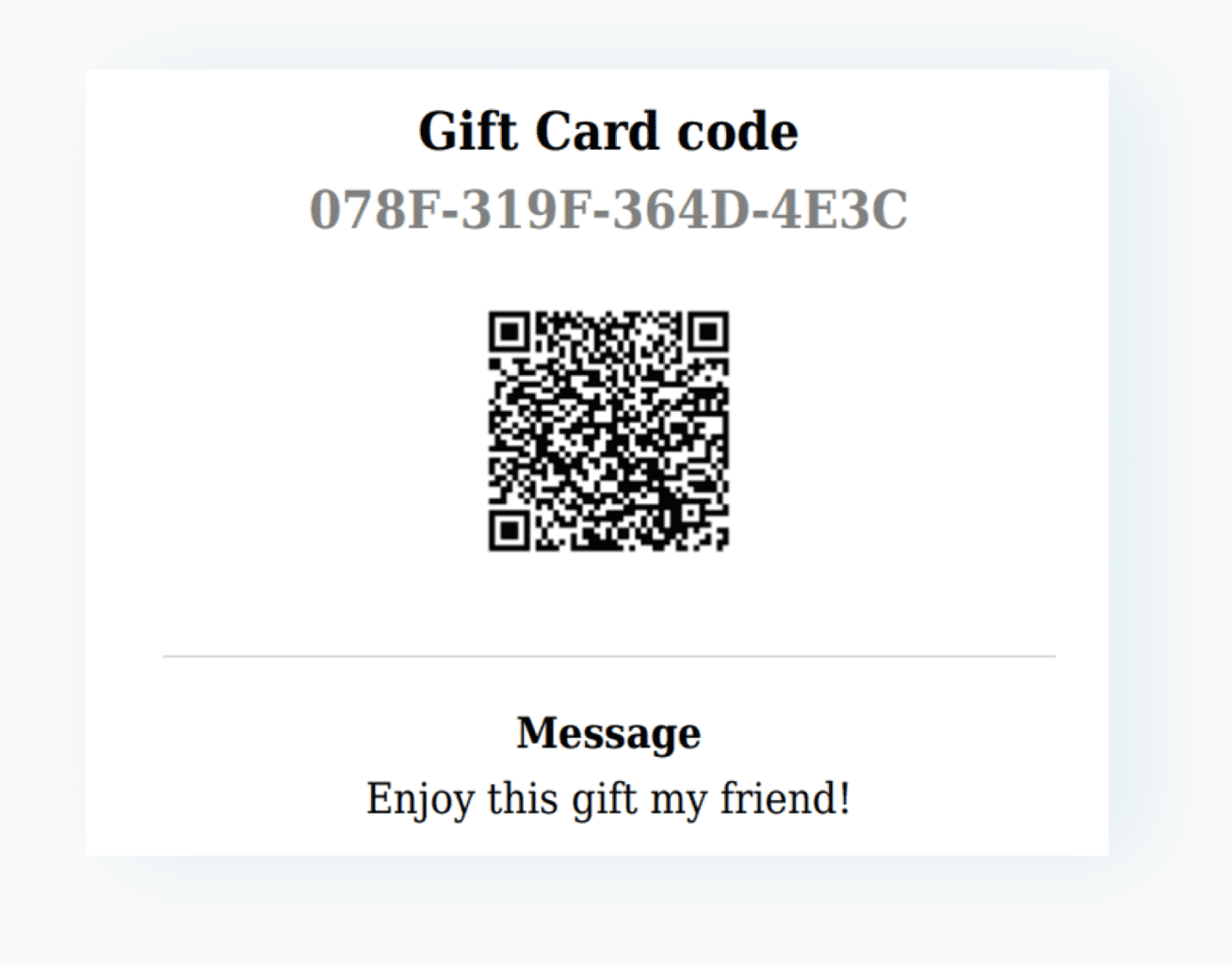 Add a QR code for your gift cards
Thanks to the new QR integration, you can now add a QR code on your gift cards and use them even more easily and quickly.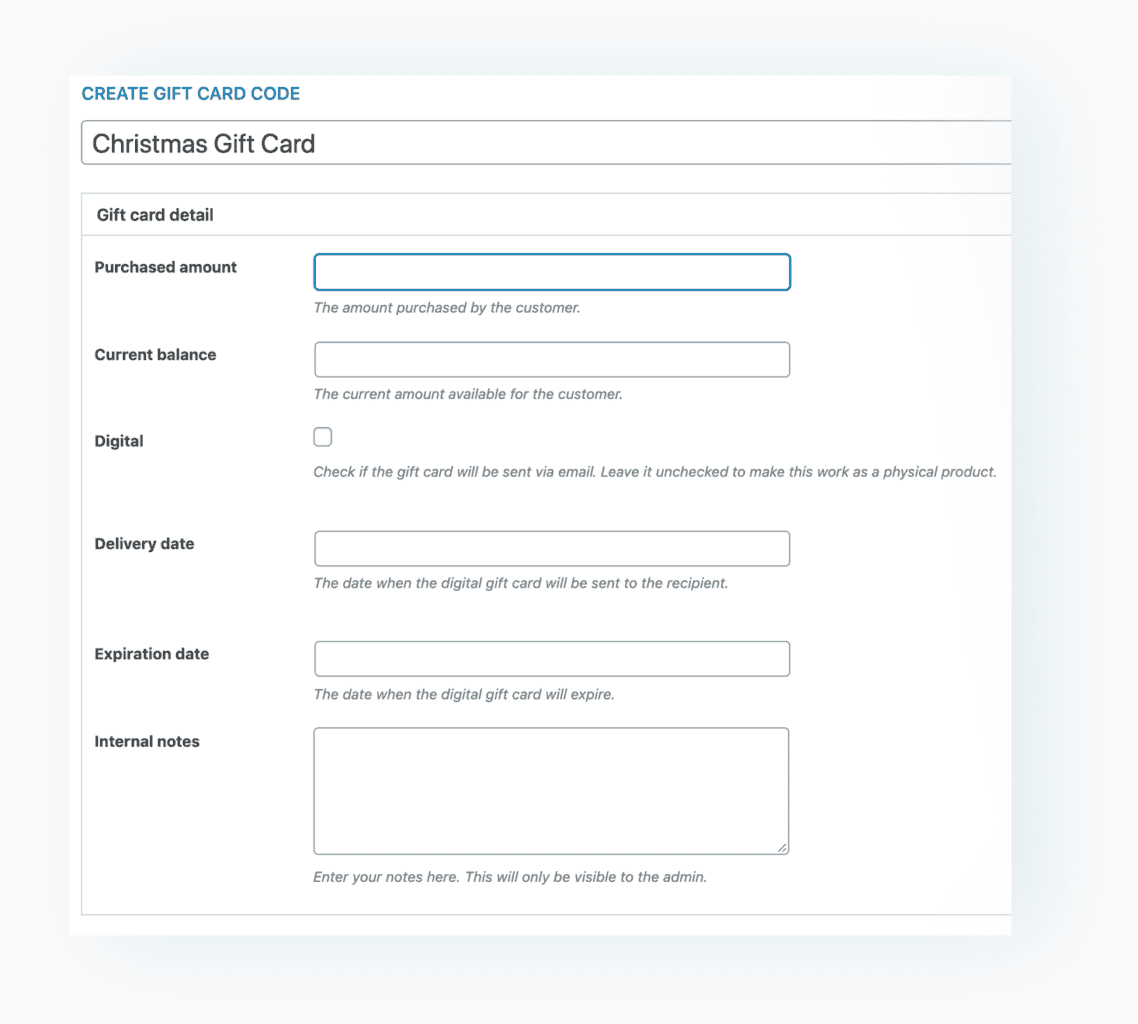 Create and edit gift cards from your online store, Without proceeding to the checkout or creating order in your shop.
A quick process to create gift card codes directly from business center online store, without creating products and without creating orders. The best solution if you need to create or edit physical gift cards or create gift card codes in a fast and simple way.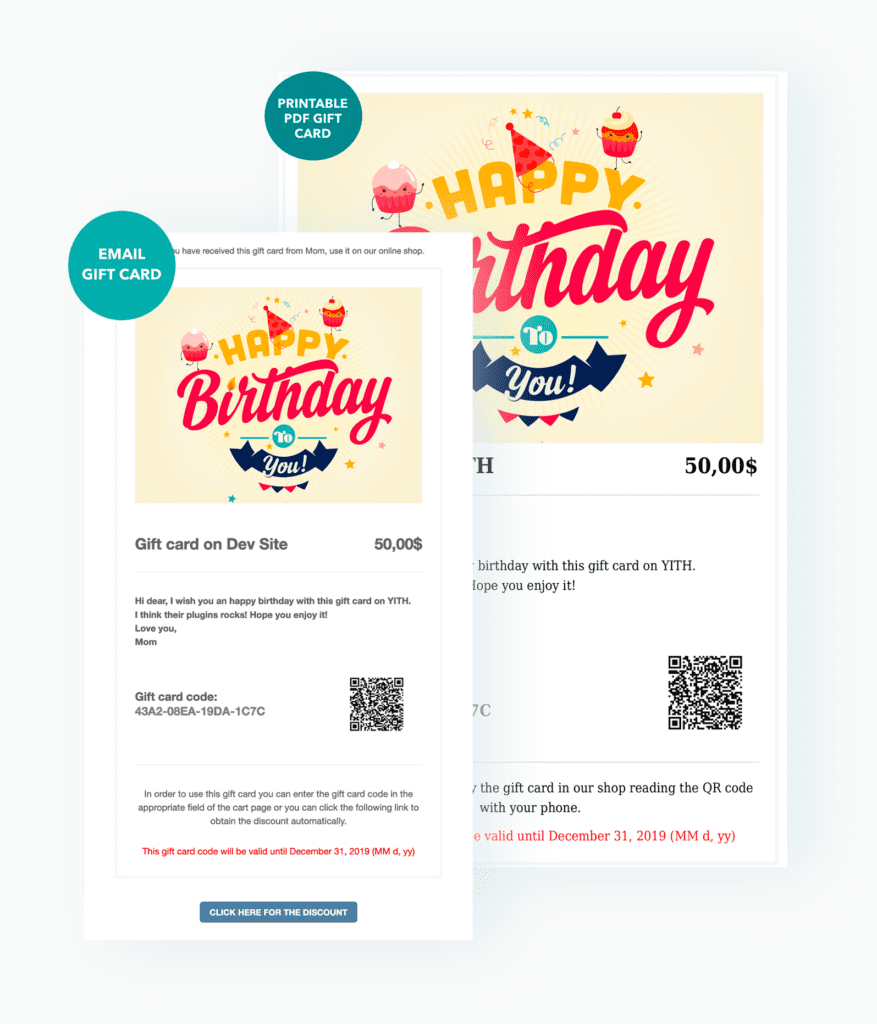 Allow your customers to send a virtual gift card or download a printable PDF version
Do your customers want to print the gift card at home and put it into a beautiful envelope? No problem. They can get a PDF file and print it easily: with AskZipy.com Gift card program they'll have a beautiful printed gift card to give to that special someone.
Start Your
Own Online Business

today!

Sign Up now and enjoy the GIFT CARDS feature to help you grow your online store.
FAQs: Common Questions About Our Services
I am not a business, can I use AskZipy.com Online Store?

Yes, AskZipy.com accounts are available for all. Personal and business users alike. In fact you do not need to have any products at all. You can create an online store and get paid for selling products from all the suppliers by simply log in, search the global store and selecting a product that you would like to sell.

Why Do I want to set up an Online Store with AskZipy.com?

This is a great opportunity to start your own online business and generate additional income resource. AskZipy.com offer a quick, easy, turnkey business model to get you started making money quickly.

How Do I make Money?

You have few options; one you can create your own online store to sell your products or products from other suppliers. You can also help set up online store for business that need assistance and earn money from the set up and/or the sale of those products. If you are motivated, you can also do both.

Is AskZipy.com online store really free?

Yes it is! Unlike other eCommerce providers, this is not just a trial. You can have one of our feature packed free stores for as long as you like. We help you set up your online store and market your product to thousands of people who are looking for your product or services. You only pay a commission on products sold. You also have the option to upgrade your account to access more of the paid features and functions to help you navigate and promote your products and services.

How does AskZipy.com make money?

Glad you asked. As well as the free listing and online store solutions, we also offer paid services. In addition to the online store we offer a FREE Directory Listing for all business in Costa Rica and several paid options for business who would like to market and feature this business and add have the option to access to additional business tools and resource to help them grow their business.

Are there any limits?

We operate a fair usage policy in order to keep the service open to as many users as possible. Yes, limits are set based on subscription packages.

Can I accept credit & debit cards on my AskZipy.com Online Store?

Yes! You can start accepting credit and debit cards directly on your store as soon as the store opens. *AskZipy.com takes a small fee for these transactions.

How do I get paid?

Your shoppers pay you directly via your chosen payment gateway. You can set up the fund for direct deposit and/or withdraw these funds at any time.

What can I sell?

The only limitation we put on what you can sell is that it is legal. We have stores selling everything from tours to car parts! As long as, someone wants to buy it, you can sell it!

Does AskZipy.com provide the products?

All products are provided by our online store customers. You can easily select any product you would like to add to your online store. AskZipy.com does not provide products but does offers services and online business tools and resources for our users.

Do I need hosting?

No. We provide everything you need, including secure cloud-based hosting. If you have a website, we can help you set up a page to sell your products and services to display on your website.

Can I use my existing site to add the online store?

Yes, if you have already have a website you can add your products to AskZipy.com online store and connect that store to your current website.

Is AskZipy.com online store available in my country?

Currently the online store is available for business doing business in Costa Rica only. If you have a product or service you would like to offer, please get in touch with our fantastic support team for more information at info@askzipy.com. We will be reviewing business on a case by case basis and if you have something that would be a good fit for our customers, we will surely consider allowing it.

Do You Provide Training or Support?

Yes, we provide online training sessions. You can also schedule a personal meeting for a one on one assistance and training. Click Here to see the schedules classes or to schedule an appointment.

What if I have any more questions?

If you do, click here to get in touch with our fantastic support team and we'll be more than happy to help. Click Here or send us an email at info@askziy.com