IMMEDIATE PRESS RELEASE
Costa Rica Local Business Listing Provider, CRneeds, Announces Transition to New Business Platform, AskZipy!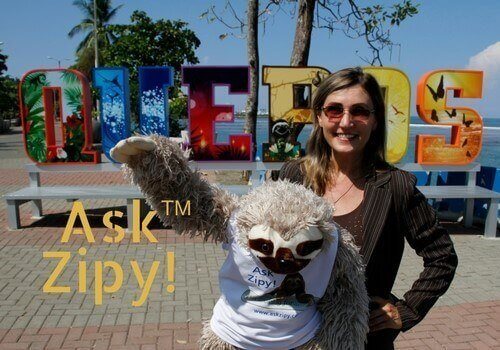 After almost thirty years of business management and consulting experience, Zina Oster's extensive business background and marketing skills led her to find that many businesses in the Manuel Antonio area needed a local online directory expert that would be available anytime to answer chat questions, find information and direct people to businesses in the area. Zina has acquired the first local directory listing service, CRneeds, and is ready to take the business network system to the next level, by providing customers with the best directory for all of your business and travel needs for the Costa Rican marketplace.  
Mrs. Oster has now launched a new company, Ask Zipy, and a new business platform with an upgraded website, www.askzipy.com, focusing on providing business owners in each province of Costa Rica with an optimized website and online directory for listing their services and information. The newly advanced directory can help with finding local products, services, stores, hotels, restaurants, tours, and even jobs in the area.
The new company has been built on the platform of CRneeds site and has been updated with many new offerings for business owners to help develop the best possible resources and visibility for their companies, including an event calendar for planning activities, a local news feed for up-to-date information, and new service listings for businesses. From reading the fabulous reviews of bakeries, such as Emilio's Café in Manuel Antonio, Z Bistro at the Marina, Shana By The Beach Hotel and many others to find the right handyman for home repair services, Ask Zipy is the best online directory for businesses owners and interested travelers alike. The Zipy Team has been adding these new tools to provide an effective platform for an advanced marketplace network in all of the surrounding areas.
This type of online directory will encompass a large number of valuable resources and activities for all visitors to enjoy. It is known in Costa Rica to be extremely difficult to find this type of beneficial information, and the features of the newly developed site will be very effective for anyone interested in finding a variety of services and activities.  
Mrs. Oster, Owner of Ask Zipy said, "Our goal is to help your business products and services to be found and be seen by both the locals in the area and tourists who are already here, as well as all travelers who plan to visit or invest in Costa Rica."
The new website is designed to be easy to use, mobile friendly, and will provide several special offers and promotions throughout the week. To learn how to get your business featured on Ask Zipy, please contact the team at info@askzipy.com. Be sure to frequently check for updates and features, with the new site to officially launching in April, 2018.
MEDIA CONTACTS:
Company: Ask Zipy
Contact: Zina Oster
Mail: info@askzipy.com
URL: askzipy.com